Avalanche Forecast for Sunday, January 20, 2019
This forecast was published 01/20/2019 at 7:16 AM.
A new forecast will be issued tomorrow.
Human triggered avalanches are likely today. Periods of heavy snow combined with shifting wind direction and speeds will keep conditions changing by the hour. Excellent avalanche and route finding skills will be required to avoid the complex  avalanche problems that will be present today. All areas have CONSIDERABLE avalanche danger with avalanche problems existing in all aspects and elevations of our forecast area.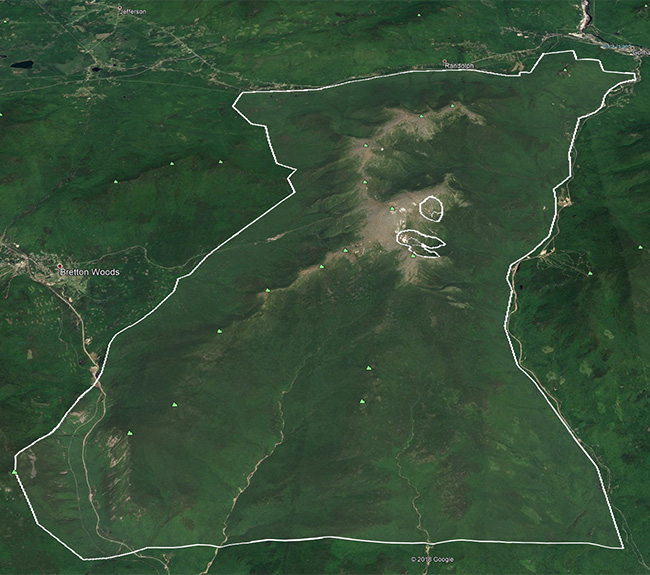 The USDA  Forest Service Mount Washington Avalanche Center has issued a backcountry avalanche watch for the Presidential Range.  Avalanche Watch criteria may also be met in other areas outside those forecast by the avalanche center. This avalanche watch does not apply to operating ski areas.
Avalanche danger will increase through Sunday and Monday,  January 20-21, 2019 creating dangerous avalanche conditions. Widespread natural avalanche activity will be possible on Monday, January 21.
A potent winter storm has arrived. Expected heavy snowfall will combine with strong winds to create unstable conditions. Strong NW winds on Monday, January 21 will create conditions for very large avalanches.
Snowfall began early yesterday afternoon and will continue through today. Currently, snowfall is heavy around our forecast area. The intense periods of snowfall should happen this morning with a brief period of sleet possible this afternoon.  Forecast snowfall totals are a moving target with many variables in play, though 12" seems likely to fall by late afternoon with the majority of that falling through the morning. Banding could bring more. The lower end of forecast totals has an associated water equivalent of about 1.25". Overnight, snow showers could bring up to another inch or two. Wind is currently from the SE at 45 mph. There is some uncertainty in direction, though it looks as if wind speed will remain in the 35-50 mph range for the morning and trend toward an easterly wind. Speed will decrease slightly for the early afternoon (25-40 mph) while shifting back to south. Around dark, wind will shift to NW and begin a steady increase that will reach 50-65 mph for the night. We may see another inch of snow arrive tomorrow, but the real weather factor will be the wind as steady NW wind (50-65 mph early rising to 65-80 mph later) loads our east facing terrain with significant snow. Expect increasing avalanche danger for the east side of the Presidential Range tomorrow.
Primary Avalanche Problem – Storm Slab
Storm slab will build today due to the intensity and amount of snow forecast. Expect to find this on all aspects and elevations and become increasingly touchy as slope angle and depth of snow increases. Storm slab may act like  deep snow with minimal cohesion on lower angled terrain, but will be touchy to a human trigger and need to be managed appropriately or avoided as slopes grow steeper and larger. Be aware for the potential of skier-induced sluff to build and trigger one of these storm slabs below.
What is a Storm Slab Avalanche?
  Storm Slab avalanches are the release of a cohesive layer (a slab) of new snow that breaks within new snow or on the old snow surface. Storm-slabs typically last between a few hours and few days (following snowfall). Storm-slabs that form over a persistent weak layer (surface hoar, depth hoar, or near-surface facets) may be termed Persistent Slabs or may develop into Persistent Slabs.
Secondary Avalanche Problem – Wind Slab
Wind from the SE will load snow into aspects on the western half of the compass. Look for cross-loading in gullies that lie on the east side of the range but that have a northern or southern aspect. These will likely be touchy to a human trigger. Bear in mind that while the snow in the bottom of a gully may appear unaffected by the wind, start zones a thousand feet above are likely to see wind loading. After sunset, these wind slabs may become widespread on all aspects due to wind increasing and shifting to the NW.
The avalanche paths and slopes on the west side of the Presidential Range, including Oakes Gulf, have lagged behind the east side a bit this season due to scouring winds. This is changing today with new snow falling and being blown onto those slopes and gullies. Any avalanche activity on that side of the range will be larger than any other this season.
What is a Windslab Avalanche?
  Wind Slab avalanches are the release of a cohesive layer of snow (a slab) formed by the wind. Wind typically transports snow from the upwind sides of terrain features and deposits snow on the downwind side. Wind slabs are often smooth and rounded and sometimes sound hollow, and can range from soft to hard. Wind slabs that form over a persistent weak layer (surface hoar, depth hoar, or near-surface facets) may be termed Persistent Slabs or may develop into Persistent Slabs.
Snowpack and Avalanche Discussion
The snowpack that existed prior to today's storm will largely play the role of a bed surface since no significant or widespread weak layer exists. Soft snow could be found, but it was isolated in location and a thin layer. Hard wind slab and old melt-freeze crusts that were widespread across the range will act as sliding surfaces for avalanche activity today. There is a remote chance that an avalanche today could step down into this older wind slab in some terrain, but this should not factor into decision making today as the new snow will be enough to bury a person. New snow today combined with wind will make safe travel in avalanche terrain difficult. Those without excellent avalanche and route-finding skills should avoid traveling in or below avalanche terrain today.
The Sherburne and Gulf of Slides ski trails are snow covered to Pinkham Notch and will offer good skiing to stay out of avalanche terrain.
Hermit Lake Snow Plot
Date
HN24
HN24W
(SWE)
Density (%)
HST
Total
Air T
T Max
T Min
Sky
Precip
Comments
02/18/19
05:22
Trace
Trace
NC
201 CM
-14.5 C
-9.0 C
-16.5 C
Overcast
Snow
02/17/19
05:24
Trace
Trace
Trace
204 CM
-16.5 C
-9.5 C
-16.5 C
Clear
No precipitation
02/16/19
05:22
13 CM
10.7 MM
12%
13CM
205 CM
-10.0 C
-2.0 C
-10.0 C
Overcast
No precipitation
02/15/19
05:22
Trace
0.1 MM
30CM
195 CM
-7.0 C
-5.0 C
-15.0 C
Overcast
No precipitation
02/14/19
05:24
11 CM
6.5 MM
10%
NC
196 CM
-14.0 C
-6.0 C
-15.0 C
Overcast
Snow
Avalanche Log and Summit Weather
Daily Observations
| Date | Max Temp | Min Temp | Total (SWE) | 24H Snow & Ice | Wind Avg | Wind Fastest Mile | Fastest Mile Dir | Avalanche Activity |
| --- | --- | --- | --- | --- | --- | --- | --- | --- |
| 02/17/19 | 14 F | -3 F | 0.00 in | 0 in | 37 MPH | 74 MPH | 310 (NW) | View |
| 02/16/19 | 8 F | -5 F | .05 in | .8 in | 52.4 MPH | 84 MPH | 310 (NW) | |
| 02/15/19 | 25 F | 7 F | .37 in | 2.7 in | 45.3 MPH | 84 MPH | 240 (WSW) | |
| 02/14/19 | 19 F | -4 F | .13 in | 1.1 in | 56.2 MPH | 90 MPH | 280 (W) | |
| 02/13/19 | 16 F | 0 F | .87 in | 5.1 in | 46.3 MPH | 92 MPH | 280 (W) | View |
| 02/12/19 | 12 F | 2 F | .54 in | 3.3 in | 37.5 MPH | 76 MPH | 130 (SE) | |
| 02/11/19 | 6 F | -9 F | 0 in | 0 in | 59.0 MPH | 86 MPH | 330 (NNW) | |
| 02/10/19 | -4 F | -13 F | 0 in | 0 in | 65.3 MPH | 101 MPH | 290 (WNW) | |
| 02/09/19 | -7 F | -14 F | .01 in | .2 in | 87.5 MPH | 148 MPH | 280 (W) | |
| 02/08/19 | 37 F | -8 F | .20 in | .2 in | 71 MPH | 124 MPH | 230 (SW) | |
| 02/07/19 | 34 F | 22 F | .04 in | .2 in | 32.2 MPH | 56 MPH | 250 (WSW) | |
| 02/06/19 | 32 F | 17 F | .23 in | .4 in | 30.9 MPH | 68 MPH | 330 (NNW) | |
Please Remember:
Safe travel in avalanche terrain requires training and experience. This forecast is just one tool to help you make your own decisions in avalanche terrain. You control your own risk by choosing where, when, and how you travel.
Avalanche danger may change when actual weather differs from the higher summits forecast.
For more information contact the US Forest Service Snow Rangers, AMC visitor services staff at the Pinkham Notch Visitor Center, or the caretakers at Hermit Lake Shelters or seasonally at the Harvard Cabin (generally December 1 through March 31). The Mount Washington Ski Patrol is also available on spring weekends.
Posted 01/20/2019 at 7:16 AM.
Helon Hoffer
USDA Forest Service
White Mountain National Forest