Avalanche Forecast for Sunday, February 24, 2019
This forecast was published 02/24/2019 at 7:02 AM.
A new forecast will be issued tomorrow.
Snow accumulation will couple with southerly wind to create new unstable slabs that will increase in size and likelihood of triggering through the day. Be ready to make careful assessments of rapidly developing instabilities if you venture onto or below open slopes steeper than 30 degrees today. Our existing snowpack exhibited good stability yesterday, with avalanches in these older layers today unlikely but not impossible. The avalanche problems of relatively soft but reactive wind slab and sluffing loose snow will increase through today and into tonight. Avalanche danger is likely to reach CONSIDERABLE for all forecast areas. Natural avalanches will become possible this afternoon.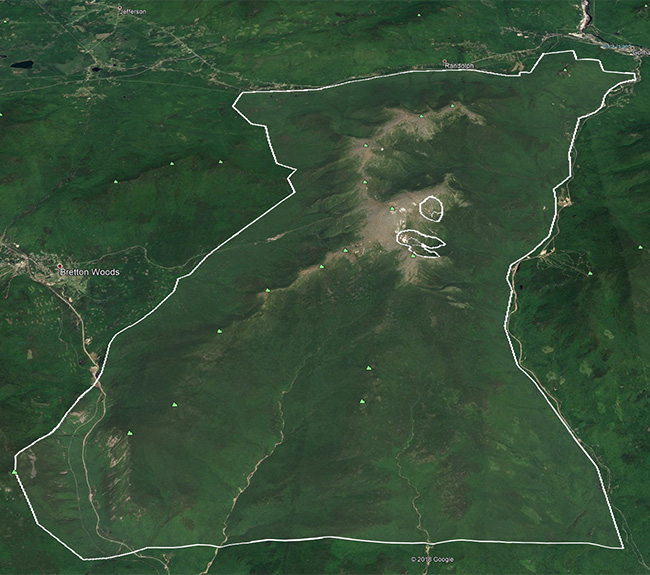 Avalanche Safety Information Study
Please contribute to the effort to improve backcountry avalanche forecasts! Researchers in Canada devised a study to better understand how we communicate the avalanche risk, and we need your help. Please fill out this survey. It will take a few minutes, but it will help us as we work on new ways to give you the most important avalanche information.
Yesterday's clear skies coupled with moderate wind, and temperatures near the freezing mark in our terrain have given way to a storm day today. Snowfall will ramp up through this morning and continue through the day, tapering slightly after dark but continuing to snow through tomorrow. Snow accumulation should total 4-8 inches in our terrain today. A chance for mixed precipitation including sleet, freezing rain, and rain does exist but forecasts are trending away from this possibility. South and SE wind today up to 40 mph, with stronger gusts, is forecast to shift W and increase slightly late tonight and into tomorrow. Temperatures today should flirt with the freezing mark at all elevations by this evening before dropping significantly tonight and tomorrow.
Primary Avalanche Problem – Wind Slab
New wind slabs, formed by today's snow and southerly wind, will increase in size and likelihood of triggering through the day. You are most likely to find this developing layer on the northern half of the compass rose. The forecast wind speeds are low by Mount Washington standards but still ideal for transporting snow and building reactive wind slabs. Expect this surface layer to build through the day and be less cohesive and a more subtle "slab" than our usual firmer wind slabs. The red flags of new snow and wind, coupled with how the new snow is behaving under your skis, board, or feet, will be more useful than stability tests in assessing this new instability. Consider also the unlikely but not impossible chance of a large avalanche stepping down to older slabs as you choose terrain today.
What is a Windslab Avalanche?
  Wind Slab avalanches are the release of a cohesive layer of snow (a slab) formed by the wind. Wind typically transports snow from the upwind sides of terrain features and deposits snow on the downwind side. Wind slabs are often smooth and rounded and sometimes sound hollow, and can range from soft to hard. Wind slabs that form over a persistent weak layer (surface hoar, depth hoar, or near-surface facets) may be termed Persistent Slabs or may develop into Persistent Slabs.
Secondary Avalanche Problem – Dry Loose
Loose snow avalanches that are relatively small but will become likely to initiate will be a concern in terrain where the new snow is less affected by wind. Watch for this avalanche problem to develop in steep terrain on all aspects. Remember that even a small avalanche in high consequence terrain is a big deal on a big slope with rocks, trees, or flat spots below. Expect a fine line between loose snow and slab avalanche problem types as snow accumulates today and realize that today's active weather will rapidly change these surface conditions.
What is a Dry Loose Snow Avalanche?
   Dry Loose avalanches are the release of dry unconsolidated snow and typically occur within layers of soft snow near the surface of the snowpack. These avalanches start at a point and entrain snow as they move downhill, forming a fan-shaped avalanche. Other names for loose-dry avalanches include point-release avalanches or sluffs.
Snowpack and Avalanche Discussion
A number of layers now exist above the February 8th melt freeze crust, with the upper snowpack prior to today trending towards good stability and the upper end of low avalanche danger. The remote possibility of a large avalanche in these layered slabs formed in the past week does remain and continues to drive us towards choosing lower consequence terrain and not lingering in and below steep, well developed avalanche paths. It's worth noting that the east side of the range continues to have far greater snowpack development, with terrain traps and other thin snow cover hazards remaining a problem on the west side. Today's avalanche problems will build rapidly, with the size and likelihood of triggering depending fully on how the storm plays out. Make continual observations and have flexible plans today, realizing that a good assessment on the rapidly changing conditions on the ground is the most valuable information you'll have to guide your terrain decisions today. Wind will shift west and increase well beyond 100 mph. This will increase the avalanche hazard until snow on the ground is no longer available which seems likely to be as late as Tuesday.
The Sherburne and Gulf of Slides ski trails are snow covered to Pinkham Notch. If you are planning to hike to the summit of Mount Washington in the next couple of days, realize that no shelter or SAR is available from the summit buildings in the winter months.
Hermit Lake Snow Plot
Date
HN24
HN24W
(SWE)
Density (%)
HST
Total
Air T
T Max
T Min
Sky
Precip
Comments
05/31/19
05:20
0 CM
Trace
0CM
0 CM
8.0 C
11.0 C
0.5 C
Broken
No precipitation
05/30/19
05:25
0 CM
0.0 MM
0CM
0 CM
7.5 C
7.5 C
1.0 C
Scattered
No precipitation
05/29/19
05:25
0 CM
22.3 MM
0CM
0 CM
1.5 C
4.0 C
0.0 C
Overcast
No precipitation
05/28/19
05:25
0 CM
0.0 MM
0CM
0 CM
0.5 C
11.0 C
0.5 C
Clear
No precipitation
05/27/19
05:15
0 CM
0.0 MM
0CM
10 CM
8.0 C
15.5 C
8.0 C
Clear
No precipitation
Avalanche Log and Summit Weather
| Date | Max Temp | Min Temp | Total (SWE) | 24H Snow & Ice | Wind Avg | Wind Fastest Mile | Fastest Mile Dir | Avalanche Activity |
| --- | --- | --- | --- | --- | --- | --- | --- | --- |
| 05/30/19 | 46 F | 36 F | 0 in | 0 in | 27.9 MPH | 55 MPH | 290 (WNW) | |
| 05/29/19 | 47 F | 33 F | 0 in | 0 in | 20 MPH | 48 MPH | 290 (WNW) | |
| 05/28/19 | 34 F | 28 F | .71 in | 3.7 in | 20 MPH | 48 MPH | 290 (WNW) | |
| 05/27/19 | 40 F | 27 F | Trace | 0 in | 38.9 MPH | 68 MPH | 300 (WNW) | |
| 05/26/19 | 48 F | 39 F | .77 in | 0 in | 48.7 MPH | 75 MPH | 290 (WNW) | |
| 05/25/19 | 47 F | 31 F | .42 in | 0 in | 17.7 MPH | 63 MPH | 240 (WSW) | |
| 05/24/19 | 42 F | 32 F | .66 in | 0 in | 44.8 MPH | 105 MPH | | |
| 05/23/19 | 44 F | 30 F | .16 in | 0 in | 26.8 MPH | 71 MPH | 270 (W) | |
| 05/22/19 | 34 F | 21 F | 0 in | 0 in | 36.2 MPH | 115 MPH | 330 (NNW) | |
| 05/21/19 | 34 F | 23 F | .57 in | 1.9 in | 73 MPH | 135 MPH | 330 (NNW) | |
| 05/20/19 | 51 F | 33 F | 0.57 in | 0.0 in | 48 MPH | 82 MPH | 250 (WSW) | |
| 05/19/19 | 51 F | 34 F | .6 in | 0 in | 34.2 MPH | 66 MPH | 250 (WSW) | |
Please Remember:
Safe travel in avalanche terrain requires training and experience. This forecast is just one tool to help you make your own decisions in avalanche terrain. You control your own risk by choosing where, when, and how you travel.
Avalanche danger may change when actual weather differs from the higher summits forecast.
For more information contact the US Forest Service Snow Rangers, AMC visitor services staff at the Pinkham Notch Visitor Center, or the caretakers at Hermit Lake Shelters or seasonally at the Harvard Cabin (generally December 1 through March 31). The Mount Washington Ski Patrol is also available on spring weekends.
Posted 02/24/2019 at 7:02 AM.
Ryan Matz, Snow Ranger
USDA Forest Service
White Mountain National Forest